COMIC DRAMA; 1hr 48min (Spanish with subtitles)
STARRING: Javier Cámara, Natalia de Molina, Francesc Colomer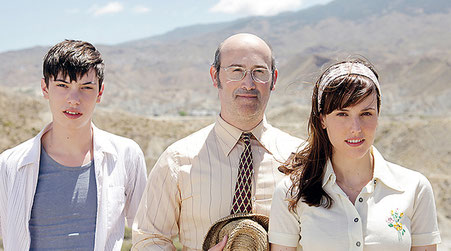 Happy campers: from left, Colomer, Cámara and de Molina
It's 1966 in Franco-dominated Spain and Antonio (Cámara), a schoolteacher with a love of the Beatles, especially John Lennon, is heading south to Almeria in his boxy, jellybean-green Fiat. His dream is to meet his idol, who is acting in director Richard Lester's How I Won the War.
En route, Antonio scoops up two strays: pregnant 20-year-old Belén (de Molina) is on her way to confront her mother; 16-year-old Juanjo (Colomer) is on the run from his authoritarian father. Mellow, talkative Antonio, who is more at ease with children than with adults, wins them both over, bedding them down at a rustic seaside hotel and even finding a waiting job for Juanjo (with mixed results). In the meantime, he plugs away at his quixotic mission, dogging his unsuspecting star while philosophising a mile a minute. The entire outing seems impossible, yet outwardly undoable beginnings can yield unexpected gifts.
Like Antonio himself, writer-director David Trueba's Living Is Easy with Eyes Closed (a line from the Beatles' "Strawberry Fields Forever") is a modest jewel with a gentle sheen, a lion's heart and the courage of its freeing convictions.