COMIC DRAMA; 2hr 6min
STARRING: Joaquin Phoenix, Amy Adams, Rooney Mara, voice of Scarlett Johansson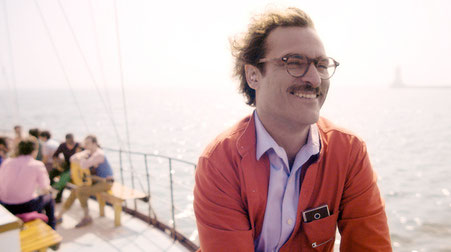 Motherboard love: Phoenix
With the mercurial Joaquin Phoenix, you never know who you're going to get. In 2012's The Master, he was scarily lost. That feral impetus is nowhere in evidence in writer-director Spike Jonze's skewed romance: Phoenix's Theodore Twombly is another drifting soul but he's also that mild, unremarkable guy beside you on the train.
Separated from, and missing, his wife (Mara), personalised letter writer Theodore lives alone in an technically advanced future Los Angeles and is busy developing a warmly responsive bond with his personal computer. Hyped by the manufacturers as "not just an operating system — it's a consciousness," Samantha (voiced by Johansson) is so bright, intuitive and classy that no mere female could compete. Her seductive voice in Theodore's earpiece — always available, all-knowing and more intensely present than any actual person — is a bittersweet irony cloaked in honeyed tones.
In lesser hands, we'd be talking shticky cheese. But no: Adams, her American Hustle sass stripped away, shines quietly as a caring friend. Johansson wows as a playfully insatiable sparring partner. And Phoenix, as gentle, accessible, needy and overwhelmed as any tragic hero, makes sense of this strange relationship by taking and holding us there.