DRAMA; 1hr 24min
STARRING: Khan Chittenden, Tzu-yi Mo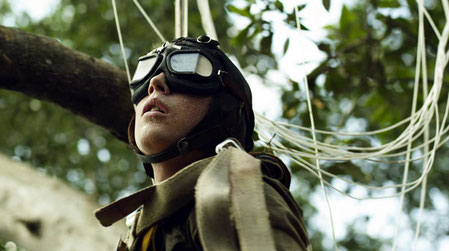 One man's war: Chittendon
On Feb. 9, 1942, an Australian fighter plane is shot down over a Singaporean swamp in writer-director Aaron Wilson's nail-shredding feature debut. Its pilot, Jim (Chittenden), is surrounded by gunfire yet profoundly alone. With feline watchfulness, he squelches through the sticky soup of mud, acutely aware of the enemies within.
The luxuriant beauty of the jungle, languorously photographed by cinematographer Stefan Duscio, is an ironic counterpoint to the extreme danger Jim faces. By night, though, not so much: leached of colour, the dreamy greenery is a deathscape. Jim stumbles across a Chinese fugitive, Seng (Mo), and they band together, bonding over the shared imperative of survival.
Throughout all this, Chittenden does not speak. His wary urgency does all the talking as his silence becomes a third character. It's a stalwart performance, expressive and elemental, with the pervading sense of deep and resolute thought. You will these men to make it, partly because of who they reveal themselves to be, and sadly, because it seems impossible that they can.