DRAMA; 1hr 40min
STARRING: Gugu Mbatha-Raw, Tom Wilkinson, Emily Watson, Sarah Gadon, Sam Reid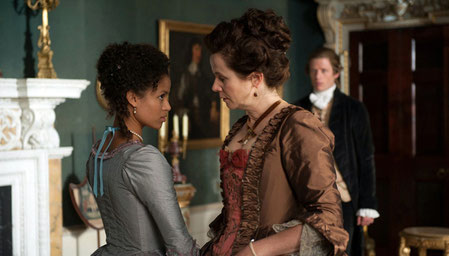 Mixed feelings: from left, Mbatha-Raw and Watson
Based on the imagined life of Dido Elizabeth Belle (Mbatha-Raw), Belle opens in 1769, when, after the death of her West Indian mother, six-year-old Dido is scooped from poverty by her father, Captain Sir John Lindsay (Goode), to be raised as a lady-born by his progressive uncle, the Earl of Mansfield (Wilkinson), Britain's Lord Chief Justice, and his wife (Watson) in imperial Kenwood House, in London's Hampstead.
Of course, this is scandalous and ground-breaking. Belle grows up regardless with her half-cousin Elizabeth (Gadon) to become a beautiful, spirited heiress, cherished although not permitted to dine with guests. Her skin colour threatens to cast her out, yet, being spirited, she eventually finds great, enduring love with passionate liberal John Davinier (Reid). Aligned with her evolution is the landmark case of slave ship Jong — whose owners drowned their human cargo to collect insurance — on which Lord Mansfield is to rule.
With its cosmopolitan cast and period niceties, the backdrop is elegance writ large in a seething whirl of undercurrents. Belle's social stratification seems carved in cement, yet in its decorous, considered and, finally, emotionally sweeping fashion, its heart is about finding a way forward.