DRAMA; 1hr 42min (Swedish with subtitles)
STARRING: Mira Barkhammar, Mira Grosin, Liv LeMoyne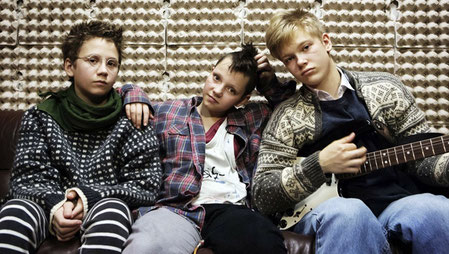 Living the dream — sort of: from left, Barkhammar, Grosin and LeMoyne
You can't keep an anarchic rocker down, no matter how meanly you may sneer. To those who think they're in the know, punk is DOA in 1982 Stockholm. BFFs Bobo (Barkhammar) and Klara (Grosin) know different. With their choppy crops and owlish gravity, the girls look like Fagin's street urchins even though they're really middle-class geeks who dream big.
Despite the glaring fact that they can't play any instruments, the besties write a song called "Hate the Sport" and form a band of two whose bang-clash is a car crash. They're such cuties, though, with their burning need to live a little, that you will them to get their act together. They almost do, too, after recruiting fellow outsider Hedvig (LeMoyne), a conservative Christian who can play guitar and who, strangely, slots in just fine.
Director Lukas Moodysson, so overwhelming with Lilya 4 Ever, gets the most from his girls by letting them rip with the loose goofiness of not-quite kids. Punk rock is the platform, but in their spiky transition to the glassy slopes of adolescence, the girls discover truths even more potent and freeing than music.