ACTION; 1hr 45min
STARRING: Chris Pine, Kevin Costner, Keira Knightley, Kenneth Branagh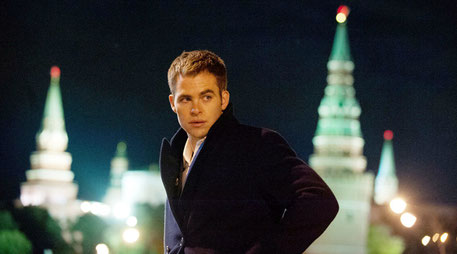 John Patrick "Jack" Ryan is a Tom Clancy creation who has appeared in four movies, variously played by Michael Douglas, Harrison Ford and Ben Affleck. Shadow Recruit is a Ryan rejig and the first film not adapted from a Clancy novel. Which all boils down to Big Shoes to Fill.
Chris Pine has no apparent problem with them, coming at Jack with forthright ease. In his present-day incarnation, Jack is a Wall Street economist who is really a CIA analyst (Costner is his laconic boss, William Harper), which not even Jack's medico fiancée, Cathy (Knightley), can know.
She finds out, anyway, when a Moscow assignment lands Jack in the orbit of magnate Viktor Cherevin (director Branagh), a chilly snake in a sharp suit who hates America and is evilly concocting its economic wipeout. This is terrorism at its most tailored and a ripper ride-along, with Jack, Cathy and Harper working against the tick-tock and the laws of probability to derail disaster. Cheers and whistles to a badass cast, and especially to multitasker Branagh, who gives fast cars and poker faces a stylish shot in the arm while stonily delivering a vampiric Russian accent. Game on!