ANIMATION; 1hr 48min
VOICES BY: Scott Adsit, Ryan Potter, Daniel Henney, Jamie Chung, Damon Wayans Jr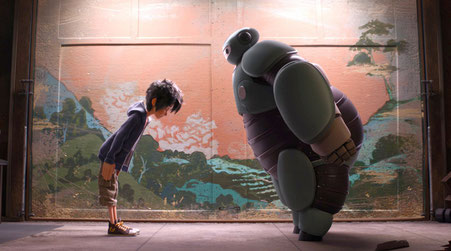 Companion piece: Hiro and Baymax
Robotics get a sparkling makeover in the bubbly, geek-friendly Big Hero 6, whose Silicon Valley types have the cool clout of stage-hogging rockers. Coolest of the San Fransokyo crew is 14-year-old Hiro Hamada (voiced by Potter), whose freaky genius is a freight train when linked with roly-poly robot Baymax (Adsit, nailing lovability).
Programmed as a healthcare companion by Hiro's dearly beloved and lately departed brother Tadashi (Henney), Baymax is a docile, blow-up plodder — and just about the cutest droid in animation history. When reprogrammed by Hiro as a butt-kicking, sharp-suited, Ninja Turtle–style avenger, the fusspot 'bot is a hard drive out of his comfort zone. His mission is the seat-of-pants retrieval of Hiro's stolen microbots, a morphing, death-dealing swarm when in the wrong hands, which they most assuredly are.
Disney directors Don Hall and Chris Williams unerringly meld East and West in their trippy whirl through a(nother) Marvel Comics concept. With the wonky support of Tadashi's BFFs and fellow dweebs (Chung and Wayans front and centre), Hiro and Baymax are irresistible, and so is the soaring, jubilant animation, in which the outer limits are only the beginning.