DRAMA; 2hr 5min
STARRING: Tom Hanks, Emma Thompson, Colin Farrell, Ruth Wilson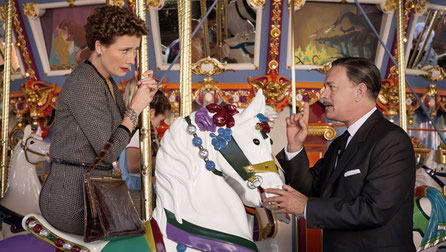 Merry-go-round of denials: Thompson and Hanks
Who doesn't cherish the story of nanny Mary Poppins, swooping in on London's Banks family in all her crisply witchy, gravity-defying glory? Equally spellbinding is the tall tale behind the taller one: of the making of the 1964 movie, based on the books by P.L. Travers (Thompson), by an avuncular — and patient! — Walt Disney (Hanks) and his team.
Mrs Travers, as she insists on being called, is a haughty Brit, fiercely protective of her characters and unreasonably refusing to compromise. To get a handle on why, you need to understand her conflicted childhood in rural Australia with her adored, alcoholic father (Farrell) and overwhelmed mother (Wilson), flashbacks of which director John Lee Hancock neatly intercuts with rocky Walt Disney Studios rehearsals.
The jigsaw tale behind Mrs Travers is the whole life-affirming package. Moving and illuminating without an ounce of stuffiness, it's bathed in Poppins magic, yet entirely its own creation. Thompson, too, is supercalifragi as a barnacle with a broken heart. When she finally fails to hold back tears, you're bound to be right there with her.