DRAMA; 2hr 30min
STARRING: Timothy Spall, Paul Jesson, Dorothy Atkinson, Marion Bailey, Ruth Sheen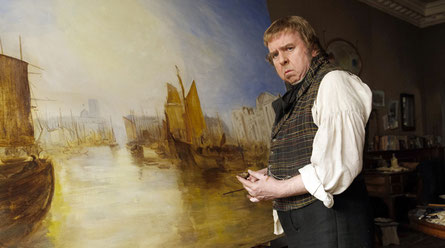 Rough-as-guts diamond: Spall
Without fanfare, writer-director Mike Leigh's free-flowing portrayal of Joseph Mallord William Turner (Spall) takes up with the English artist in the final 25 years of his life. (He died in 1851.) Turner paints land and seascapes with a gauzy expertise that belies his gruff lumpenness. His work is applauded. He shares a comfortable London home with his convivial, infirm father, William (Jesson), and a strange housekeeper (Atkinson) with whom he has an occasionally carnal arrangement.
His inner life is equally oblique. There is a bitter ex-girlfriend (Sheen) and two daughters he has virtually nothing to do with. He rents a seaside room under an assumed name and begins a secret relationship with its sunny landlady, Mrs Booth (Bailey). He weeps violently while sketching a prostitute (Kate O'Flynn).
But this self-described "gargoyle" truly lives through his misty oils and watercolours, their dreamy thrall matched by cinematographer Dick Pope's prismatic vistas. Spall does the maestro proud, as well: graceless yet intriguing, his Turner is a grunty porcupine with the delicacy of a blunt instrument and the transcendent soul of an artist.