CRIME; 1hr 44min (Spanish with subtitles)
STARRING: Javier Gutiérrez, Raúl Arévalo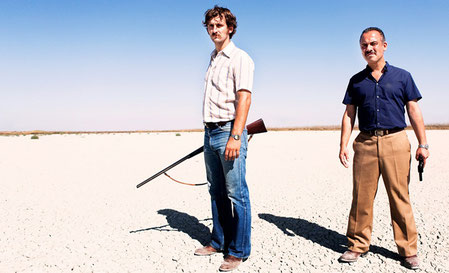 Strange land: Arévalo (left) and Gutiérrez
In 1980, two detectives, one a boozing bon vivant (Gutiérrez as Juan), the other Señor Straitlaced (Arévalo as Pedro), are investigating the disappearance of two teenaged sisters from a small Spanish marshland town. As they go tersely about their business, recorded with quiet foreboding by director Alberto Rodríguez, it emerges that murderous forces are afoot. The girls have been tortured, raped and killed — and they're not the only victims.
The sleuths are an awkward fit at first. Young gun Pedro is ambitious, with a pregnant wife to support. Juan is by no means the party boy he would like to be seen as. Neither man is easily deceived, however, and their steely persistence serves them well.
Every town teems with secrets. This one isn't willing to give theirs up. Rodríguez plays his cards equally close, revealing just enough to intensify the murk. As suspicions harden into repellent evidence, ethical limits blur. The finale is a master stroke of ambiguity unmasked.