DRAMA; 1hr 40min
STARRING: Ashlyn Louden-Gamble, George Pullar, Aaron Jeffrey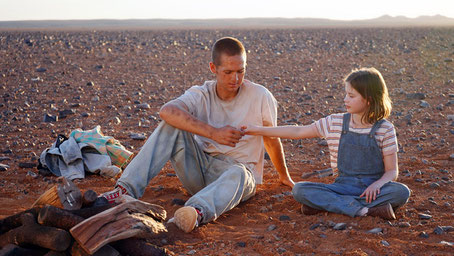 Red planet: Pullar and Louden-Gamble
Nine-year-old Monday (Louden-Gamble) and 16-year-old Tyler (Pullar) inhabit different spheres but they're both equally up against it. Monday is terminally ill; Tyler stole a ring that reminds him of one his mother owned, accidentally shooting a police officer in the process. When they meet on a Sydney train, Tyler is on the run and Monday is convinced that a visit to the Moon Rock with which she is obsessed (aka Uluru, thousands of miles away in the Northern Territory) will cure the incurable. As far as Tyler is concerned, Monday makes a good cover and the further they travel the better.
Monday's widower father, Bob (Jeffrey), is meanwhile frantic. As well he should be with his daughter on the road to the Territory in a stolen car, rolling with the cool of a kid who doesn't expect to live past age 16 and blissfully unaware of what the desperate boy behind the wheel has been up to. The year is 1999 so no mobile phones, et cetera, which is bad news for Bob but a blessing for a fugitive with everything to hide.
Writer-director Kurt Martin keeps his crew on the move through a desolate, stupendous outback Australia in this touching feature debut. Louden-Gamble (another first-timer, although so at ease on camera you'd swear she grew up in front of one) has an easy rapport with a simpatico Pullar, neatly undercut by a heightening urgency that can't bode well. Factor in David Field as a detective with a personal agenda and the offbeat characters Monday and Tyler encounter (Bad Boy Bubby 's Nicholas Hope rocks whimsy in quasi-astronaut mode), and the outlying Oz landscape comes alive in a telling paradox of beauty and ferocity.