DRAMA, 1hr 28min (German with subtitles)
STARRING: Christian Friedel, Katharina Schüttler, Burghart Klaussner, Johann von Bülow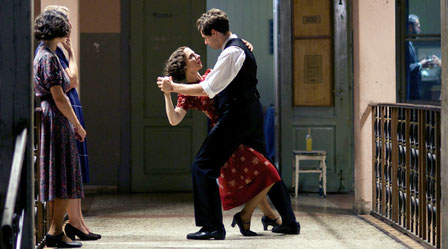 Hearts divided: Schuttler and Friedel
The name Georg Elser isn't at the forefront of Nazi Germany's history, but it certainly should be. Guileless carpenter Elser (Friedel) was a hero, paid intensive homage to in Downfall director Oliver Hirschbiegel's comprehensive reconstruction as the best kind of renegade who went for what he wanted, in love (with Schuttler's unhappily married Elsa) and in the attempted prevention of an obliterative war.
What Elser wants on November 8, 1939, is to blow Adolf Hitler to smithereens with his self-made bomb. He falls short by 13 minutes when Hitler leaves the chosen Munich venue ahead of schedule. Elser's bomb kills eight people. After being interrogated and tortured by the steely heads of the Kriminalpolizei (Klaussner) and the Gestapo (von Bülow), he is incarcerated in concentration camps.
Alternating crushing torture with Elser's earlier life, Hirschbiegel takes pains to reveal a free-spirited country boy and musician who believed that "If humanity isn't free, everything dies with it." The sacrificial story is overloaded with exposition but its vital lesson is that even in the darkest hours, force of conviction shines a blazing light.