COMEDY; 1hr 39min
STARRING: Ed Helms, Christina Applegate, Skyler Gisondo, Steele Stebbins, Chris Hemsworth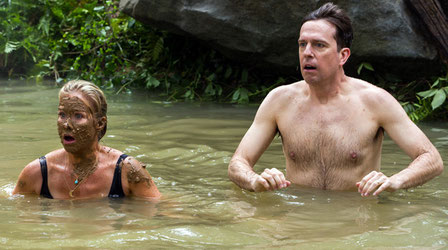 Oh naturel! Applegate and Helms
God knows why, but National Lampoon's disaster-prone Griswold clan have been vacationing since 1983. In the fifth instalment in the go-to-woe series, with cockeyed zest, the adult Rusty (Helms), his forgiving wife, Debbie (Applegate), and their sons, James and Kevin, revisit Rusty's original childhood road trip to Walley World amusement park with his sister and his parents, Clark and Ellen (Chevy Chase and Beverly D'Angelo, who both appear).
Rusty is either a total idiot or the world's biggest optimist: either way, the trip is hell on wheels. Lamblike elder brother James (Gisondo) is relentlessly bullied by the obnoxious Kevin (Stebbins). The GPS screams at the family in Korean. They unwisely offend a truck driver. A visit with Rusty's sister Audrey (Leslie Mann) and her extremely endowed husband, Stone (Hemsworth), is no help to anyone. Then there's a hot spring that's far too hot to handle.
On and on the hysterical foursome rolls, playing the absurdity dead straight. They could all have gone due south, buffoonery being a hit-and-miss business. Luckily, the Griswolds are up for anything.