ROMANTIC COMEDY; 1hr 58min
STARRING: Jason Sudeikis, Alison Brie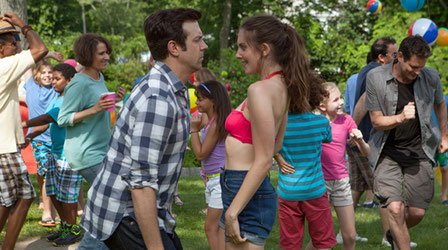 Hot in the city: Sudeikis and Brie
Jake (Sudeikis) is a glib tomcat with commitment issues. Lainey (Brie) has been hung up for aeons on Dr Wrong (Adam Scott as obnoxious ob-gyn Matthew). They hook up one impulsive night in college in 2002, then run into each other years later in New York at a sex addicts' meeting, which has to be the ultimate anti re-meet cute.
Given their train-wreck track records, the two agree to keep their new best-friendship strictly platonic, which basically means they talk constantly about sex instead of getting the hell down and doing it. That could be boring and gross, but since writer-director Leslye Headland is blessed with the gift of the written gab and Sudeikis and Brie are so open and so effortlessly pally, creaky chick flick decor gets a savvy refurb.
Can sexual misfits ever settle? Will Jake and Lainey stay Just Friends? Do we actually want them to? It's a credit to Headland's playfulness and the polished complexity underlining it that all bets are off, from Jake and Lainey's first night right up to their final minutes.