DRAMA; 1hr 39min
STARRING: Ben Foster, Chris O'Dowd, Guillaume Canet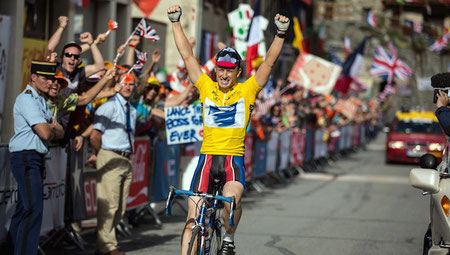 To recap the supernova arc of Texan cyclist Lance Armstrong (Foster): the testicular cancer survivor, charity founder and seven-times consecutive Tour de France winner (between 1999 and 2005) was stripped of his titles in 2012 after the discovery — which he repeatedly and strenuously denied — that he and his teammates were regular participants in a performance-enhancing doping program.
Director Stephen Frears (The Queen), a comprehensive humaniser of legends both enduring and undone, comes at Armstrong's skiddy history with efficient zest and pulse-spiking peloton action. Screenwriter John Hodge's even-handed adaptation of Irish journalist David Walsh's 2012 book Seven Deadly Sins: My Pursuit of Lance Armstrong, streamlines the angles to two parallel tracks. On one sits the bumptious Armstrong, whom Foster closely physically resembles and sought to intuit by using steroids while filming. Dogging his preternatural progress is Walsh (O'Dowd), whose persistence is decisive in exposing the fraud.
"No longer confined to Earth, now we have learned to fly," Armstrong's sports doctor, Michele Ferrari (Canet), exults while concocting his speed-freaky cocktail. And fly Armstrong did, hurtling, Icarus-like, directly towards the sun. How easy it must have been for a man who could move that fast to believe he would outrun any consequences.