DRAMA; 1hr 46min
STARRING: Amy Adams, Christoph Waltz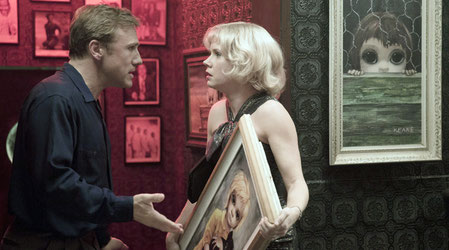 Picture imperfect: Waltz and Adams
Artist Margaret Keane's saucer-eyed children's portraits were a benchmark of 1960s cheese. "I believe that you can see things in eyes," the tentative, modest Keane (Adams) tells her exuberant, exploitative, soon-to-be second husband, Walter (Waltz), in director Tim Burton's surprisingly conventional biopic.
Whatever Margaret sees in her haunted waifs, thousands of people are ready and willing to share. At their peak, the mass-produced Keanes are a global phenom — but with one, game-changing caveat: while the invisible and ignored Margaret beavers away in her studio for ten years, flashy huckster Walter takes the credit for his wife's work. Resentful yet compliant, she lets him get away with it. Remember, this was the straitlaced 1950s and '60s, although not so swinging behind the Keanes' closed doors, where Walter degenerates into a soused bully.
As Walter, Waltz overflows with gusto but Adams is fabulous, vibrating like a tuning fork through Margaret's dazzled infatuation, caged humiliation and liberating anger. Her story was hot news at the time and makes a fascinating movie, which Burton (Edward Scissorhands, Sweeney Todd et al) plays uncharacteristically straight. The strangest truths need no fancy footwork.