ROMANTIC DRAMA; 1hr 44min (Southwest Tanna with subtitles)
STARRING: Mungau Dain, Marie Wawa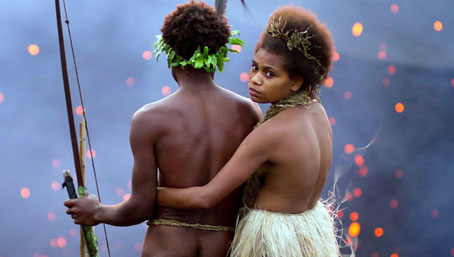 Close to the edge: Dain and Wawa
Resistant lovers Dain and Wawa (Mungau Dain and Marie Wawa, using their own surnames) baulk at traditionally arranged marriage in co-directors Bentley Dean and Martin Butler's stunning drama. A true-life romance with the jungly thrall of a fairy story, it's set on Vanuatu's volcanic island of Tanna and performed without a shred of awkwardness by the people of the village of Yakel.
Tribal life looks as primal as prehistory and idyllically pared-down with its thatched huts, luxuriant vegetation, languid rhythms and time-honoured Kastom culture. But the mellow Yakel and the combustible Imedin tribes are divided. And when, in the interests of a peaceable resolution, Wawa is betrothed by her chief (Chief Charlie Kahla) to an Imedin man, it is more than she and Dain, who happens to be Chief Charlie's grandson, are able to bear. "I want to choose who I marry," Wawa says, giving voice to the unheard of. "I'm speaking from my heart."
Ah, but hearts play scant part in politics. Dain and Wawa's story, taken from actual seismic events, is classically tumultuous, elementally sublime and a final, breakthrough embracing of the wind of change.