DRAMA; 1hr 34min
STARRING: John Lithgow, Alfred Molina, Marisa Tomei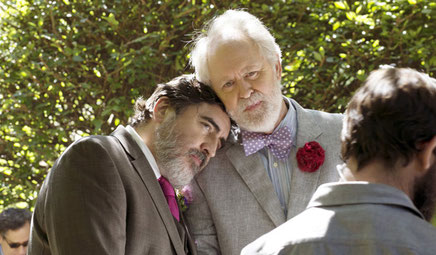 Love story: Molina (left) and Lithgow
Together for 39 years, Benjamin and George (Lithgow and Molina, both unselfconsciously smashing) are newly wed and blissfully happy. Catholic Church hierarchy doesn't share the love, however, and when school music teacher George loses his job and their Manhattan apartment must be sold, as a "transitional phase" the two need somewhere to stay.
So off they go—separately, space being mouse hole tight in New York City—to the apartments of dear friends. Seventy-one-year-old painter Ben bunks down with his nephew, Elliot (Darren Burrows), Elliot's author wife, Kate (Tomei), and their testy teenage son, Joey (Charlie Tahan), while George holes up with an exuberant gay couple (Cheyenne Jackson and Manny Perez). Both arrangements are far from ideal, cutting into tolerance levels across the board.
Love is strange, though, and wonderful, too, when its rocky permutations and mysterious truths are as finely drawn as they are here by director and co-writer Ira Sachs, and especially when Chopin's swooning compositions heighten the tender-hearted mood. The casting is a dream date, as well, with everyone so at ease in their characters' life-hewn skins that you never want their deep-seated stories to end.