DRAMA; 1hr 53min (French with subtitles)
STARRING: Karidja Touré, Assa Sylla, Lindsay Karamoh, Mariétou Touré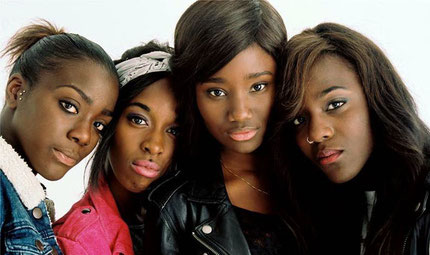 Gang of four: from left, Mariétou Touré, Karamoh, Karidja Touré and Sylla
Lady (Sylla), Adiatou (Karamoh), Fily (Mariétou Touré) and Marieme (Karidja Touré) are part of a Paris that most tourists never see: they're a teenage gang whose stomping ground is the housing projects of the gilded city's suburbs and whose mantra is "I do what I want." And they do, breaking rules and smashing boundaries with the combative exuberance of all for one, in the moment sisterhood.
For Marieme — renamed Vic, for Victory, by Lady — whose school grades are too low for academic success and whose home life is dominated by her aggressive brother, Djibril (Cyril Mendy), group acceptance spells liberation. As Karidja Touré understandingly plays her, Marieme is also tougher than she looks, which for a black girl in an unforgiving world could either be her strongest asset or her undoing.
Written and directed by Céline Sciamma (Water Lilies, Tomboy) and perfectly cast for actuality, Girlhood 's punchy rhythms ring spontaneously true. Marieme's brave transformation explores the challenge of taking charge of whatever cards you've been dealt—not easy when you're 16 years old and swinging from the bottom up, but not impossible, either.