COMIC DRAMA; 1hr 36min
STARRING: Ellen Page, Michael Cera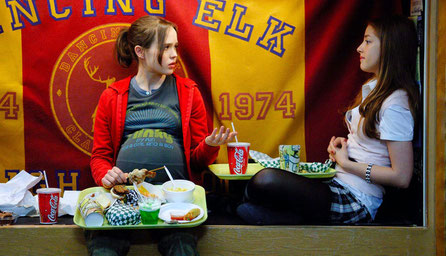 Mommie dearest: Page (left) and Olivia Thirlby
Juno MacGuff (Page) is 16 and unsure of what kind of girl she might be. Super-brainy and articulate with an inbuilt BS detector, she's also unexpectedly pregnant to her buddy Paulie Bleeker (Cera). Since she wants neither to abort nor to keep the baby, adoption is the obvious option. So having picked a seemingly perfect couple (Jason Bateman and Jennifer Garner as Mark and Vanessa Loring) from an ad in a discount store, Juno sets forth on the hardest possible course.
As she proved with 2005's Hard Candy, Page is a cracker actress: so switched on she'd be scary if it weren't for an underlying softness. That gets plenty of play here as the seasons unfold, Juno's stomach swells and her relationship with Vanessa and Mark takes a radical turn.
Written by Diablo Cody (one of the savviest voices to come along lately) and directed by Jason Reitman (Thank You for Smoking), this little corker is a casting coup from the ground up, while Page, acerbic, assured and unstoppable, is a real life screen goddess in the making.