CRIME; 2hr 2min
STARRING: Johnny Depp, Joel Edgerton, Benedict Cumberbatch, Dakota Johnson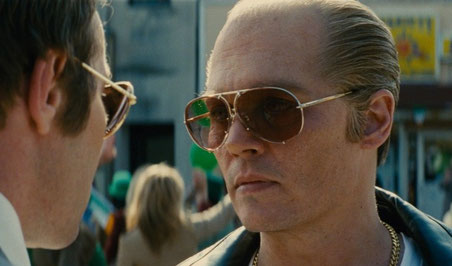 Armed and dangerous: Depp (with Edgerton)
In 2013, after 16 years on the run, 84-year-old James "Jimmy" Joseph "Whitey" Bulger Jr (Depp), former boss of Boston Irish mobsters the Winter Hill Gang, was sentenced to two consecutive life terms (plus a surely unnecessary five years) for his involvement in 31 counts of awfulness, racketeering and 11 murders among them. Jimmy is also the brother of William "Billy" Bulger (Cumberbatch), one-time president of the Massachusetts Senate. Talk about corridors of power.
Unpeeling Jimmy's scaly layers, director Scott Cooper dips back to 1975 and the genesis of the Faustian alliance between Jimmy and FBI agent John Connolly (Edgerton). As Connolly, Edgerton quietly elicits every delusional note when the agent, who grew up in the same project as Jimmy, confuses loyalty with morality. In exchange for Bulger's information on a rival crime family, the Feds pay such little heed to him that by the 1980s, local thuggery has swollen to a terrible autonomy.
The message is bleeding obvious: lie down with dogs and you crawl away flea-infested. But holy God, what dogs! Depp's dead-man's gaze and the psychotic fury boiling beneath are flipsides of frightening. The cut-throat amorality is as heavy as cement shoes, and with his icy ferocity at its rotted heart, it's a compulsive disaster.