DRAMA; 1hr 49min
STARRING: Gabourey Sidibe, Mo'Nique, Paula Patton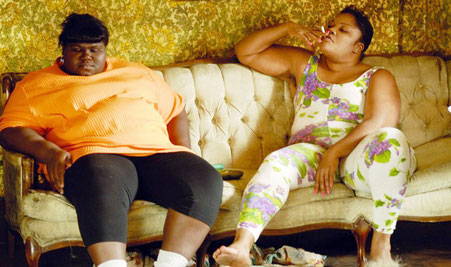 Tough love: Sidibe (left) and Mo'Nique
Sixteen-year-old Claireece "Precious" Jones (Sidibe) is morbidly obese, illiterate and pregnant with her father's second child. She lives in Harlem with her hate-filled, violently abusive mother (a blistering-to-boiling Mo'Nique) and takes refuge in fantasies where she is glamorous and happy. Her situation looks utterly hopeless and to witness her aloneness is harrowing.
Yet there is a spark: suspended from high school because of her pregnancy, Precious enrols in an alternative teaching program for hard-core kids with nowhere else to go. Her teacher (Patton) is a gift and through her, Precious — who is no fool — learns to read and write. She makes friends with the girls in her class, gives birth to a boy and deals, step by baby step, with the seemingly unendurable.
Based on New York poet Sapphire's 1996 book Push, this heartbreaker owes its essence to the conviction of newcomer Sidibe. Her performance is as organic as breathing; she's Precious through and through in her complexity, her courage and a spirit that is stronger even than the damage done.