DRAMA; 1hr 40min
STARRING: Richard Gere, Susan Sarandon, Tim Roth, Brit Marling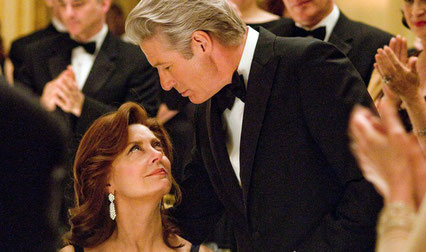 Crash and burn: Gere (with Sarandon)
Robert Miller (Gere) is drowning. Turning 60, the New York hedge-fund tycoon has amassed a fortune many men would envy. But a rash investment and the 2008 financial fallout have left Miller gasping for air as he battles to unload his company. 
The law of averages being what it is, it follows that when one card topples, the entire, ostentatious townhouse is likely to follow. Miller's crucial deal isn't going through. Investors' funds are not where they're supposed to be. And personally, he's in an even darker place — with his enigmatic wife, Ellen (Sarandon), his edgy, co-worker daughter, Brooke (Marling), and his sultry French mistress, Julie (Laetitia Casta). Rough justice, in the shape of fixated detective Michael Bryer (Roth), is closing in on him, too.
Miller looks to be at breaking point, pushed there by moral arrogance. With the focus of a circling shark, Gere steers him through a flotilla of obstacles that would fell a lesser being. Writer-director Nicholas Jarecki is equally attuned; having grown up in New York's high-finance community, he's well aware of how its wheels can spin too far, too fast and perilously close to the edge.