DRAMA; 1hr 56min (Danish with subtitles)
STARRING: Mads Mikkelsen, Thomas Bo Larsen, Annika Wedderkopp, Lasse Fogelstrøm, Alexandra Rapaport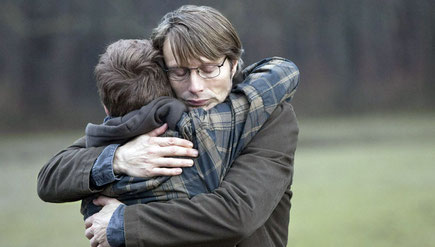 The prey: Mikkelson (with Fogelstrøm)
Perceptions turn on a dime in Danish director Thomas Vinterberg's gut-wrenching drama about a decent man brought down. A Royal Affair's Mikkelsen, potently intuitive, is small-town kindergarten carer Lucas. He's wonderful with kids, an avid deer hunter with his close male pals, happy in his new relationship with co-worker Nadja (Rapaport) and generally getting on with life after a divorce gave his ex-wife custody of their teenage son (Fogelstrøm as Marcus).
All that ends when the intense little daughter (Wedderkopp as Klara) of Lucas's best friend, (Larsen), falsely alleges that Lucas sexually approached her. As the parent-teacher witch-hunt snowballs, Lucas is powerless in the face of what everyone seems to want to be true. He loses his job. He becomes an outcast. The police are called in. He's forbidden to have contact with a stunned Marcus.
The assumption is that the children — for others soon parrot Klara's story — are being truthful. The fact is, they're not. Quietly told and unspeakably sad, the mass condemnation gone nuts is a bone-chilling indictment of the judgmental evil that men do.