COMIC DRAMA; 2hr 2min (Spanish with subtitles)
STARRING: Ricardo Darin, Oscar Martínez, Erica Rivas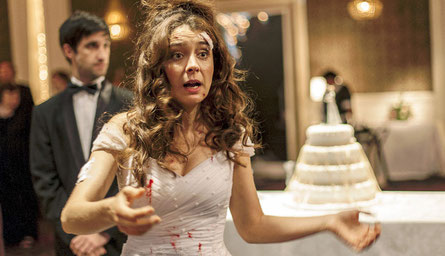 Bride, interrupted: Rivas
As tasty and contrasty as chocolate mole sauce, Argentinian writer-director Damián Szifron's brand of wildness is a hot-blooded smorgasbord of bile and spice, highlighted with lunatic, I-can't-believe-I'm-laughing-at-this crack-ups.
While connected in their unifying theme of kicking violently against the pricks, the six short stories are all over the map, plot- and character-wise. In-flight encounters set the mordant tone, followed by a rain-washed reckoning in a roadside diner. Road psychosis, always a reliable goodie, is up next. A frustrated engineer's (Darin) combustible redemption then segues into the machinations of a wealthy man (Martínez) playing fast and loose with the letter of the law by exploiting the greed of others. And finally, in a hot-blooded master blast, a furious bride (Rivas) takes game-changing charge.
For Szifron, too much drastic action is the only, cathartic way to go. To which I say, Go Team Argentina! This loco mob won't reaffirm anyone's faith in the innate goodness of humanity—assuming it was there to begin with. But who can resist everybody behaving so very badly?