DRAMA; 2hr 2min
STARRING: Michael Fassbender, Kate Winslet, Seth Rogen, Jeff Daniels, Michael Stuhlbarg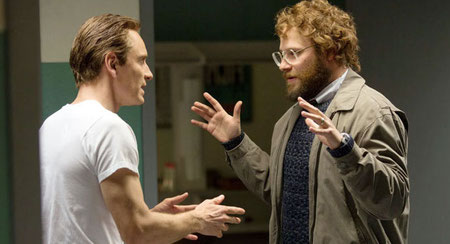 Woz up? Fassbender (left) and Rogen
Zesty director Danny Boyle (Trainspotting, Slumdog Millionaire) takes on Apple mastermind Steve Jobs (Fassbender) with characteristic va-va-voom: barring the odd side note, the busyness of Aaron Sorkin's screenplay lives and breathes fire backstage with the lead-up to the launches of the Macintosh in 1984, the NeXT Computer in 1988 and the iMac G3 10 years later.
At the Mac launch, 29-year-old Steve is a veritable dust devil. He berates engineer Andy Hertzfeld (Stuhlbarg), feuds with his furious ex girlfriend Chrisann Brennan (Katherine Waterson) over money and the paternity of their young daughter, Lisa (Makenzie Moss), who nonetheless coaxes from him chinks of humanity, and keeps motherly Apple marketing exec Joanna Hoffman (Winslet) on the hop. Putting it mildly, he seems a chilly fish, yet Steve will revolutionise universal consciousness.
And does the masterful Fassbender ever keep him moving, bristling and sparking through daunting setbacks and bare-knuckle conflicts with Apple CEO John Sculley (Daniels) and hardware engineer and Apple co-founder Steve "Woz" Wozniak (Rogen). Only when the ceaseless activity bows out in a force field of confrontations do you realise that in the unmasking of a paradoxical and exceptional man, two hours has just whirled by.