ROMANTIC COMEDY; 1hr 50min
STARRING: Dakota Johnson, Rebel Wilson, Alison Brie, Leslie Mann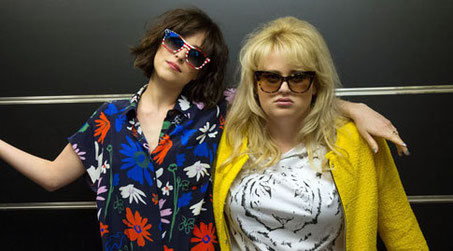 More sex in that city: Johnson (left) and Wilson
There are eight million people in New York City, according to Single's date-hungry Lucy (Brie), which in theory leaves plenty of options for everyone on the go — or should that be make...
Meet Lucy, Alice (Johnson), Robin (Wilson) and Meg (Mann) as they circle the shark pool. Alice and Robin are paralegals and polar opposites, Alice being fresh off the relationship boat (with Nicholas Braun's Josh) and Robin your basic dipso-floozy (only funny with it, which neuters the sting in that sad old tale). Alice's older sister, Meg, is an ob-gyn who wants a baby solo, despite having the perfect prospective partner (Jake Lacy as Ken). Lucy, who lives above a bar owned by commitment-phobe Tom (Anders Holm) is going nowhere on too many dating sites. Plus, huge plus, there's NYC, teeming with elusive promise.
The light-shade gamut feels distinctly rehashed, but director Christian Ditter (Love, Rosie) and his in-tune ensemble wear the formula well enough that its character load is never overwhelming, even when they're losing their multiple plots. Brownie points to Ditter, too, for wrapping a charmer date movie in a winning case for singledom — no mean feat in our hook-up fixated world.