DRAMA; 1hr 52min
STARRING: Saoirse Ronan, Emory Cohen, Domnhall Gleeson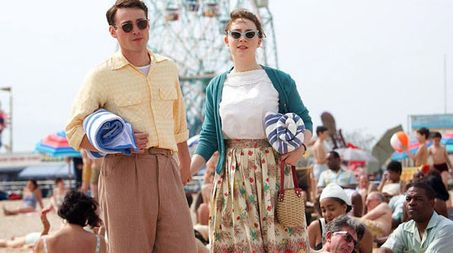 Cohen and Ronan are the picture of young love
It's what Saoirse Ronan doesn't say in this lyrically felt coming-of-ager that fills its images with yearning. Ronan plays Irish shopgirl Eilis Lacey's migration to New York in the 1950s with abundant yet fine-tuned emotion that surpasses even the dialogue in Nick Hornby's terrific script (adapted from Colm Tóibín's 2009 novel and directed with an artist's appreciative eye by John Crowley).
Eilis is inexperienced and shy; a delicate native plant hardly armoured for the big, wide world. She's dreadfully homesick at first in her ladies-only boarding house briskly overseen by a chattery Julie Walters. Then she meets an Italian boy (Cohen as Tony), and just when everything is opening up with a new life and a blooming love, her past returns to claim her.
Brooklyn is about the potency of that past, and how it feels to be pulled between two poles. While it's very much of its conservative time — the period detailing is immaculate — the dilemma of divided loyalties is one for any age. In its quietly reflective way, Eilis's gradual transformation is both a celebration of growth and change and inexpressibly sad.