DRAMA; M, 2hr 4min
STARRING: Bryan Cranston, Helen Mirren, Diane Lane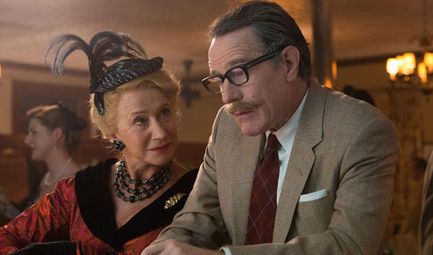 Gossip girl: Cranston with Mirren
The Dalton Trumbo (Cranston) of director Jay Roach's expansive biopic is a superlative Hollywood screenwriter. He's also a Communist in an increasingly paranoid 1947, and his way with words doesn't save him from a wholesale blacklisting when the House Committee on Un-American Activities moves in. Meanwhile, behind the scenes, backstabbing showbiz insiders are doing what they do best (an icily chic Mirren is a poisonous joy as gossip columnist Hedda Hopper).
The toil and trouble is all so briskly detailed it seemed Roach and Co might run out of steam in the first hour, but once Trumbo is serving 11 months in the slammer for contempt of Congress, the story settles into itself — which is more than can be said for the wreckage of his life. Released from prison and with his loyal wife, Cleo (Lane), and their wholesome brood somehow holding steady, the undaunted pariah rebuilds his career, pumping out incognito scripts for a schlock producer (John Goodman) before writing Spartacus and Exodus.
As a movie, Trumbo is too literal to fully hit home but with Cranston in urbane control, the man's rock-solid sense of purpose can't help but make its mark.