COMIC DRAMA; 1hr 50min
STARRING: Michelle Pfeiffer, Lucas Hedges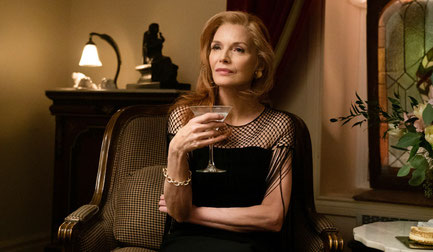 Manhattan widow Frances Price (Pfeiffer) is frosty, lovely and on her uppers in an unforgiving upper class. "We are insolvent!" the 60-year-old stunner informs her indifferent son, Malcolm (Hedges), bursting theatrically into wine-juiced tears. Fresh out of other options, she sells up for not nearly enough cash and takes off to a friend's (relatively) modest Paris apartment with Malcolm and her stroppy black cat, Small Frank, in tow. This didn't seem like such a shabby deal to me, but it fails to impress either Frances, Malcolm, his stricken fiancée, Susan (Imogen Poots), or the cat.
It seems everyone is stricken at this point of no return: staged in sombre tones by director Azazel Jacobs and based by screenwriter Patrick deWitt (The Sisters Brothers) on his novel of the same name, the off-centre Exit doesn't take irony lightly. A wet, grey Paris isn't playing ball with the Prices, either, at first — proof once again of the old adage of taking yourself with you wherever you happen to wash up.
While mother and son forge resignedly ahead with the remnants of their life, Frances remains as mysterious and fabulous as an alien planet, even when softening in snatches and in the face of the cred-stretching discovery that the errant Small Frank (voiced in seances by Tracy Letts) is apparently her reincarnated attorney husband, Franklin. (Of course he is.)
The Prices' scattershot fellow travellers include a plain-speaking, feline-channelling psychic (Danielle Macdonald as Madeleine), the mellow private detective (Isaach de Bankolé) recruited by Frances to track Madeleine and fervent Frances devotee Madame Reynard (Valerie Mahaffey). They're a perfectly imperfect fit in the gonzo scheme of things. But this is Pfeiffer's spotlit stage and she commands it with the remote grace of Hollywood royalty, no matter on which continent she's holding court.