DRAMA; 1hr 38min
STARRING: Susan Sarandon, Kate Winslet, Mia Wasikowska, Sam Neill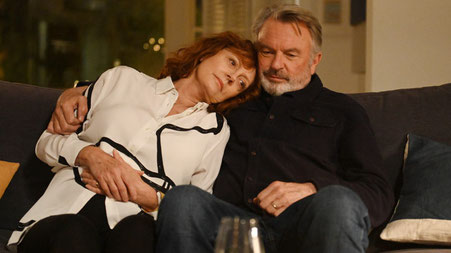 Memento mori: Sarandon and Neill
Director Roger Michell (Notting Hill) and screenwriter Christian Torpe waste no time hauling off the gloves in their remake of the 2014 Danish family drama Silent Heart (also scripted by Torpe). Barely have sisters Jennifer (Winslet) and Anna (Wasikowska) set foot in their folks' waterfront Connecticut home than they're at each others' throats. From Anna's POV, Jennifer is a pernickety bitch whose husband, Michael (Rainn Wilson), is "Mr Dull." Jennifer is similarly bristling, both at Anna's flaky ways and at the presence of her "husband," Chris (Bex Taylor-Klaus).
Meanwhile, downstairs in the tastefully appointed living room, the sisters' sparky mother, Lily (Sarandon), is working on grace notes that are understandably strained, given that she's terminally ill with ALS, and that with the help of her doctor husband, Paul (Neill, all gravitas), she's planning to imminently end her life. (Like this very weekend, people!) And so it is that the stage is set for close encounters of the heavily layered kind, their guest list rounded out by Jennifer and Michael's reticent teenage son, Jonathan (Anson Boon), and Lily's forever bestie, Liz (Lindsay Duncan).
It's a lot, in other words, and none of that lot is especially novel, so it's also a blessing that for this ensemble cast, a life/death hankie-wringer is actorly meat-and-spuds. They do their damnedest through both the shiny, happy interludes we all saw coming and the lacerating unburied truths that follow (ditto). I could've used a smaller helping of suds but the screenplay's weepy leanings seem a small price to pay for the home runs its team players hit.