DRAMA; 1hr 45min (English, Indigenous language with subtitles)
STARRING: Simon Baker, Jacob Junior Nayinggul, Jack Thompson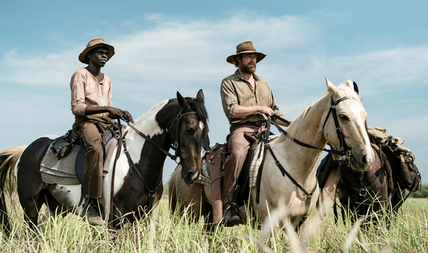 Ground rules: Nayinggul (left) and Baker
The Arnhem Land of Yolngu Boy director Stephen Johnson's full-on Australian actioner is explosively atmospheric, not just in its vivid geography and hammered violence, but in the incongruous massacre that sets it up. Gutjuk (Guruwuk Mununggurr) is a child when his peaceful family is slaughtered by white soldiers. Twelve years later, raised on a mission station and now known as Tommy, Gutjuk (newcomer Nayinggul) is polite and softly spoken, pulled between his outlaw "wild mob" clan, led by his revenge-bent uncle, Baywarra (Sean Mununggurr), and the safety zone of a life he'd never have chosen.
With tensions running high between Indigenous and interlopers, Gutjuk turns tracker for the man who saved him as a little boy. Travis (Baker) didn't fit the trigger-crazy lawman mould; having quit the force, he wears his otherness like a battered Akubra. He and Gutjuk arrange a peace-brokering meeting with wary members of Gutjuk's tribe and the pontificating officer in charge of bringing the wild ones to heel (Thompson as Moran). This marriage of opposites is screamingly destined to fail, but try telling that to a blinkered colonialist in a Look-at-Me uniform.
"You want us to respect your laws?" no-BS Grandfather Dharrpa (Witiyana Marika) informs Moran with remarkable restraint after a lecture on white-bread morality. "Give us our justice." Touché! Dharrpa has a centuries-old point. High Ground is faction based on brutal truths, with Moran speaking for a king and country that carry no majesty here. That birthright belongs to an elemental landscape whose ancient bones answer to no one.