COMIC DRAMA; 1hr 49min (French with subtitles)
STARRING: Juliette Binoche, Yolande Moreau, Noémie Lvovsky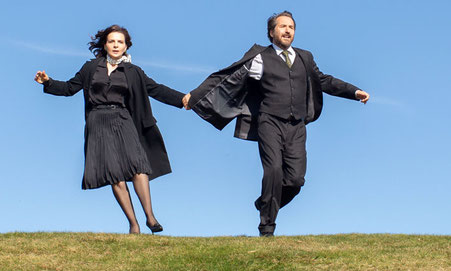 Bank management: Binoche and Baer
The Swinging Sixties are nowhere in sight at the Van der Beck's School of Housekeeping and Good Manners, tucked away like a lady's lace hankie in the storybook hills of Alsace. The school for subservience is run on oiled wheels by its perfectly upholstered headmistress, Paulette Van der Beck (Binoche). Flanked by her overgrown adolescent stepsister, Gilberte (Moreau), and drama-queen nun Marie-Thérèse (Lvovsky), it is Paulette's mission to teach the art and crafts of spousal decorum to her rough-diamond teenage boarders, whether they want to learn them or not.
Who in their right mind would? The curriculum is comprised of cooking, cleaning, sewing, with a nod to the resigned acceptance of marital sex, which Paulette and her peeping-Tom husband, Robert (François Berléand), know all about. But when Robert unexpectedly departs the scene and Paulette discovers that under his administration the school has been brought to its financial knees, she must pull on her big-girl pants and run the show. Cue the handsome bank manager (Edouard Baer) who happens to be her long-lost love! Only in France, right? Meanwhile, in parts of the country that are not buried from the neck down in a repressive past, an anarchist student rebellion is brewing. The universe could hardly be any more obvious.
Despite the odd detour into female hysteria, director Martin Provost (The Midwife) mainly keeps Paulette's journey of self-actualisation thistledown-light. Binoche, of course, can't put a foot wrong, her sureness of touch a gift to Paulette even at her most stitched-up. More stealth charmer than outright comedy, Provost's Christmas cracker is a retro-sweet send off to a hellacious year, with silver linings all round and a blazing feminist anthem to ignite its grand finale.