COMIC DRAMA; 1hr 36min
STARRING: Bill Murray, Rashida Jones, Marlon Wayans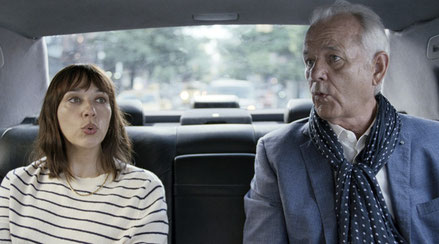 Whistle while you work it: Jones and Murray
Laura (Jones) is your basic, time-poor, well-heeled NYC wife (of Wayans's Dean) and the mother of two adorable sprogs. She's effortlessly likeable and a generally cool-ish customer, even when struggling with her writing. Still, when she discovers a woman's toiletry bag — complete with body oil — where it has no business being, the seed of doubt is sown, especially given that Dean is a preoccupied workaholic with a hot-tamale assistant (Jessica Henwick as Fiona).
Enter Laura's rakish father, Felix (Murray), to whom she turns at a plush lunch à deux some 18 minutes into writer-director Sofia Coppola's polished spin down easy street — and it's in the moment of their meeting, when Murray's rumpled, beloved mug appears in the back window of a limo, that the gears truly begin to click. As Felix, Murray, who meshed so memorably with Scarlett Johansson in Coppola's Lost in Translation, is the briny olive in Laura's lunchtime martinis. "He should be worshipping the ground you walk on," he admonishes his daughter before cannily advising her to check Dean's phone.
Being a long-term ladies' man and a confirmed bon vivant, Felix is serenely convinced of his unassailability, and unlike the more restrained Laura, he's not afraid to push boundaries. When the two head off into the night in his racy, elderly Alfa Romeo convertible — thoughtfully stocked with Beluga and Krug — to shadow Dean and Fiona on their travels, Felix is just getting started. 
So, too, is Coppola, her smooth, understated style elevating what could have been a so-what fluff piece. Murray and Jones are on their game as well, working exploratory moments with the ease of experience. And if the abundant talent, the starry locations and the shifting sands of a loving, exasperating father–daughter dynamic can never quite surpass the sum of their shiny parts, it's those very same parts that carry the soft-centred show.