DRAMA, 1hr 53min
STARRING: Stephanie Gil, Sônia Braga, Alejandra Howard, Jorge Lamelas, Harvey Keitel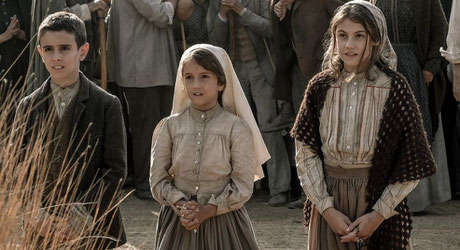 Hail Mary: From left, Lamelas, Howard and Gil
The community of Fátima in the Portugal of 1917 is no barrel of laughs, with World War I laying waste to its young men. So when 10-year-old Lucia (Kristen Stewart lookalike Gil) and her cousins Jacinta and Francisco (Howard and Lamelas) encounter a vision of the Virgin Mary (Joana Ribeiro, pearly as an alabaster statue) while herding their sheep, her beatific announcement, that Jesus has chosen Lucia as a messenger of faith, should be a ray of light.
Or not! The adults in are sceptical, with the local priest (Joaquim de Almeida) helpfully suggesting that the image — which, inconveniently, only the children can see — could well be the work of the notoriously seductive Devil, and Lucia's censorious mother (Lúcia Moniz) shouting her down. Lucia isn't having any. "It's true, Mama!" she protests. "I saw the Lady! And I'm not crazy!"
No prizes for dialogue, then. But bearing in mind that Fátima the place in now a holy shrine while Fatima the movie is based on actual events and dedicated to the memory of Sister Lucia (played in adulthood with patient gravitas by Braga), whom the Catholic Church is currently canonising, there's a need to know that keeps these squeaky wheels turning.
Director Marco Pontecorvo is at pains to point out that belief can be its own cross to bear. Whether blind faith is a search for truth that ultimately, as Keitel's dissident professor argues with a stoic Lucia decades later, "breeds irrational hope," is a question for the ages. Back in 1917, the masses couldn't care less about that, flocking to the fields of Fátima where the visitations continue with their apparitions of hell and war and their exhortation from Mary to pray and keep praying, or else. I could've used more forward momentum and less preachy argy-bargy. But even for a confirmed sceptic, conviction can be addictive.