ROMANTIC COMEDY; 1hr 55min (French with subtitles)
STARRING: Daniel Auteuil, Guillaume Canet, Doria Tillier, Fanny Ardant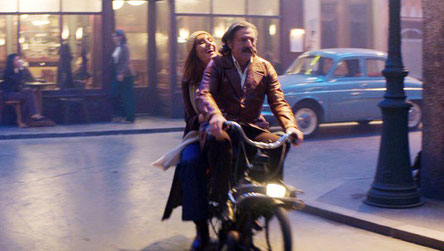 Street of dreams: Auteuil and Tillier
When a husband and wife have grown apart, the distance between them can seem unbridgeable. For middle-agers Victor (a reliably likeable Auteuil) and Marianne (Ardant, spitting chips), that distance is compounded by the direction they've each taken. She is an endlessly modern psychiatrist who resists her age, he's a testy, out-of-work newspaper cartoonist for whom technology is an anathema. When Marianne gives up on Victor and boots him out of their apartment, he has nothing else to lose that he values and nowhere to go but back to 1974 Lyon, where at 25 he first met Marianne at café La Belle Époque.
Victor's simulated experience comes courtesy of a film company that re-creates past events to order for a well-heeled clientele. It's run with a flamboyant eye for detail by an entrepreneurial director (aptly cast actor-director Canet as Antoine) whose unrealised young life Victor turned around with the gift of a book he'd illustrated. Now, Antoine is looking to return the favour to a lost man pining for a simpler time when everything was before him.
The meeting on an affectionately reconstructed café set, between a newly spruced Victor and the saucy young actress who plays his wife-to-be (Tiller), and who also happens to be tumultuously involved with Antoine, is a coup of studied cool that blends past with present. For Victor, this resurrected history is an open sesame to a freeing new lease of life. Maybe you can't technically go home again, but the rosily inventive way writer-director Nicolas Bedos tells it, in the loopy course of reliving what's been lost, you can be inspired to rebuild.