COMIC DRAMA; 1hr 49min
STARRING: Cate Blanchett, Billy Crudup, Kristen Wiig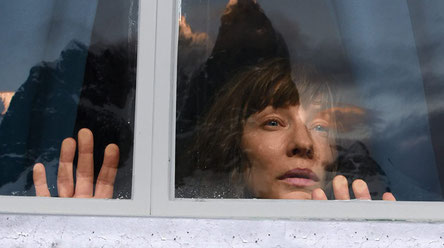 Twenty years ago, Bernadette Fox (Blanchett) was a trailblazing architect who dropped out of sight after a pioneering home she designed was summarily bulldozed by its new owner. Now she lives in Seattle in reclusive, domestically unrenovated style with her tech-whiz husband, Elgin Branch (Crudup, bland as unsalted butter), and their brainy, grounded 15-year-old daughter, Bee (Emma Nelson, who is impossible not to like).
Bernadette is neither grounded nor likeable. She adores Bee, but she's otherwise prickly, wary, abrupt and unfriendly, especially towards her pushy-pants, New Age-y next-door neighbour, Audrey (Wiig), for which, in fairness, nobody could blame her. Suburbia has reduced Bernadette to a fritzing bundle of pilled-up, exposed nerves, and Blanchett, being Blanchett, has her fingers on the pulse of every single one, all the way to Bernadette's long overdue flashpoint.
Granted, she has a ton to contend with. Her virtual PA, to whom she has obligingly supplied Elgin's substantial financial details, is a front for a Russian identity-theft ring. Plus, Bee, her sole supporter, is off to boarding school. Adding insult, et cetera, Elgin, at wit's end, stages an intervention with an annoying psychiatrist (Judy Greer), during which Bernadette finally sees sense and bolts, taking herself off to Antarctica, to which a family trip had been planned for Bee, much to her mother's phobic horror. She has had enough, and by that stage, so had I.
Bernadette the 2012 novel is a scintillating, top-selling blast by sharp-eyed writer Maria Semple, whose whimsical gaze is nowhere to be seen in director Richard Linklater's zing-deprived rework. Taken solely on its own terms, Bernadette the movie is a solidly delivered story about a lost woman who rediscovers her creativity and her corresponding self-love in a very cold climate. But this time, there are no maverick sparks to light her way.