DRAMA; 1hr 49min (Icelandic with subtitles)
STARRING: Ingvar E. Sigurdsson, Ída Mekkín Hlynsdóttir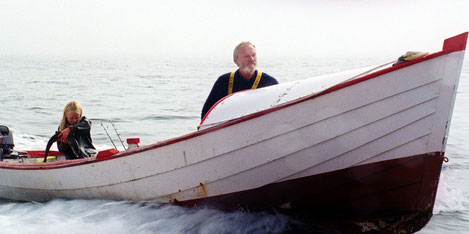 Inner depths: Sigurdsson and Hlynsdóttir
The opening shots of writer-director Hlynur Pálmason's meditation on the mind of a man in mourning are a meditation session in themselves, with Maria von Hausswolff's time-lapse photography holding steady over unfolding seasons on a house in rural Iceland. The message is as plain as a long-drawn day: this wintry Scandinavian story will be taking its bittersweet time.
At first rundown and deserted by everyone but moseying neighbourhood horses, the house is revitalised by the arrival of Ingimundur (Sigurdsson) and his eight-year-old granddaughter, Salka (Hlynsdóttir). The little girl is a sunbeam with blonde locks and brows to match; in her chattery company, the ex-police chief finds some solace from the shadow of the death two years before of his wife in a car accident.
But Ingimundur's loss is pervasive. His daughter, Salka's mother (Elma Stefania Augstsdottir), is also messed up by it, while Ingimundur, a brooder, has a lot going on. Sorting through his late wife's stuff, he grows suspicious of a man he suspects she was involved with (Hilmir Snær Guðnason). Beyond the grave mistrust is never a good look, and in a lonesome setting with nowhere to turn, it's basically a car crash.
Meanwhile, the fixer-upper house is an apparently endless work in progress, punctuated by scenes that could mean anything—a bizarre children's TV cartoon; a rock tumbling down a hillside into the ocean; an interlude in which each cast member stares wordlessly at the camera. What is clear is that Ingimundur is losing it, plunging like a falling rock, ahem, into frustrated, misery-inflamed rage. His fraying psyche is an unnerving paradox: As played, slowly, slowly, by a gripping Sigurdsson, the man is the personification of craggy, resigned-to-it self-control, yet his actions are increasingly unhinged. That reserve is what makes the consequences towards which Pálmason (Winter Brothers) is expertly working so disturbing. Their impact lies not so much in what happens (although, trust me, that showdown is no fjord picnic) as in the weight Ingimundur carries with his silence.