CRIME DRAMA; 2hr 12min
STARRING: Daniel Kaluuya, Jodie Turner-Smith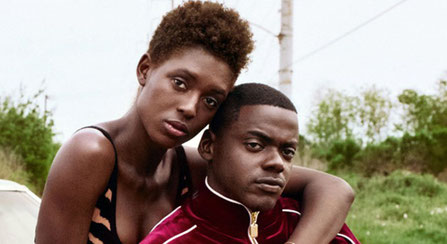 Flight path: Turner-Smith and Kaluuya
In what has to rank with the most disastrous Tinder dates of all time, Ohio defence lawyer Queen (Turner-Smith) and her God-fearing mismatch, Slim (Get Out 's Kaluuya, up against it once again), make stilted conversation over a so-so diner dinner. That obstacle cleared, they're pulled over by an aggro police officer (Sturgill Simpson) after Slim swerves while driving Queen home.
The officer is white. Queen and Slim are black. And so it follows that when Slim inadvertently shoots to kill, he and Queen are on the run and about to be anointed folk heroes of the African-American oppressed. Intuitively directed by feature first-timer Melina Matsoukas, the screenplay from Lena Wraithe (adapted from a story by Wraithe and James Frey) blends a dash of The Hate U Give with a pinch of Bonnie and Clyde, topped with the Thelma & Louise-perfected twist of a law-abiding duo as the unlikeliest of outlaws.
A basic truth of cause and effect is that when every step you take is a panic-stricken reflex, you're bound to make choices you'll come to regret. Forced to rely on the chancy goodwill of others, the runaways find themselves in some outlandish places. Yet there's freedom, too, in their ad hoc shedding of skin. With no strategy but to somehow make it to Cuba, wary, imperious Queen and docile, decent Slim find space to breathe in the momentum of escape, and within that space, an all-important place for each other.
None of this would be worth a damn if Matsoukas and her in-tune ensemble cast didn't have their empathy bases covered, with a spectrum of emotional shades laid out for everyone to play with. Quirky and chaotic, yet grounded in heartfelt human truths, Queen and Slim's transformative flight is a high-stakes bareback ride that grabs you from the get-go and urges you to care.