COMIC DRAMA; 1hr 52min
STARRING: Kristin Scott Thomas, Sharon Horgan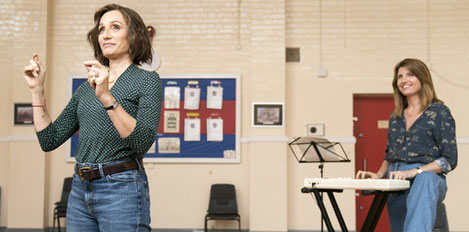 Songbirds: Scott Thomas (foreground) and Horgan
Poet John Milton's words of wisdom, that "They also serve who only stand and wait," could have been written for the partners of servicemen and women whose thankless role is to man the trenches at home while their loved ones are on tours of duty. They don't necessarily love each other while they're at it, either, especially if, like Military Wives' stitched-up Kate (Scott Thomas) and laissez-faire Lisa (Horgan), they're a chalk/cheese contradiction.
And here we go! It's a given that everyone who's been around the block with Brit hits The Full Monty (also helmed by Wives director Peter Cattaneo) and Calendar Girls will be well aware that the two women's butting of heads is inevitable before a single iffy note is warbled by the choir they and their fellow wives form to keep the blues at bay while their partners are away in Afghanistan. It's also a cert that uplifting music and enduring friendships will blossom from all the argy-bargy. And that with the broader context of this fact-based shout-out being a theatre of combat, tempers will flare, buried hurts will surface, limits will be tested and loss and sorrow will be a constant subtext.
On the other hand, knowing the score doesn't mean it's not worth another run-through, especially when the players are so very boots and all. Rachel Tunnard and Rosanne Flynn's screenplay is based on the formation in 2010 of the original Military Wives Choir, which was such a smash that there are now 75 of them globally. And if its plotting is as pioneering as a treble clef, this unassuming little number was never pretending to be anything but a tra la to grace under pressure.