HORROR; 1hr 58min
STARRING: Marianne Jean-Baptiste, Fatma Mohamed, Leo Bill, Hayley Squires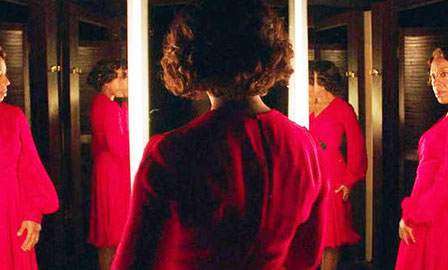 Pretty. Deadly. Jean-Baptiste
Film-maker Peter Strickland's malignant holy grail is a dress on sale in 1993, but In Fabric could be dedicated to any woman who has ever fallen for the dream weave of a new outfit. Bank clerk Sheila (Secrets & Lies' Jean-Baptiste) is one of them. As the separated, single mother of an offhand teenage son (Jaygann Ayeh), solitary Sheila yearns for romance. She pores over a personals column, then buys herself a fabulous new frock in which to paint the town.
The dress is perfection; scarlet, slinky and timeless. If only it weren't possessed by a viperous spirit! But fashion is notoriously fickle, and after the damned thing reveals its strangeness and the porcelain-skinned, sphinx-like department-store saleslady (Mohamed, killing it as Miss Luckmoore) refuses to take it back, Sheila is marked for disaster.
Next up on the style slate is Reg (Bill), a chinless washing-machine repairman with a nagging fiancée (Squires as Babs) who is press-ganged by his mates to wear the conveniently elastic dress on his stag night. No matter what he's wearing, Reg is the antithesis of sexy and chic: when he bangs on about the technicalities of his work, he's so paralyzingly dull that he literally sends people into a stupor. Unsurprisingly, the demon threads are no more merciful to him and the insufferable Babs...
Stickland (The Duke of Burgundy) is a master of absurdist dimensions. Sheila's officious bosses (Julian Barratt and Steve Oram) toe the borderline of farce. Miss Luckmoore speaks in Byzantine riddles, swans around in her lushly retro domain in voluminous black and coolly eroticises a stripped department-store mannequin. In the hypnotic strobing of the store's TV sales ads, the shop assistants are the custodians of glamour's evil allure, beckoning unwitting customers. The sum of these spellbinding parts is satire on a cocktail of steroids, its poisoned darts sheathed in silk chiffon.