DRAMA; 1hr 36min
STARRING: Laura Gordon, Olivia DeJong, Rob Collins, Josh Hellman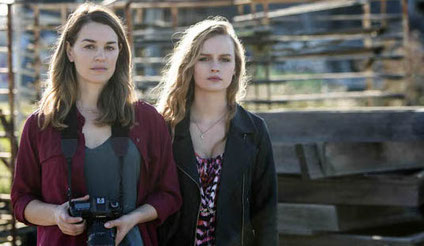 Camera-ready: Gordon (left) and DeJong
It never rains but it floods a tsunami in the drowning pool of writer-director Miranda Nation's feature-film debut. A vivisection of loss and betrayal, Undertow takes off at Dark and Stormy, then power surges from there.
Claire (Gordon) is a heavily pregnant photojournalist in the Australian bayside city of Geelong who loses her baby while husband Dan (Collins) is out partying. She's barely back on track when she spots Dan at a motel with a nonchalant fox (DeJong as Angie) who, as it happens, was present at the very same party.
In the cagey way of potentially wronged wives everywhere, Claire keeps this sighting to herself. Instead, she takes the self-punishing road of seeking out Angie by photographing her (not a prob to set up with Angie's hungry modelling hopes), only to be knocked sideways when Angie reveals she is pregnant. Dan's explanation—that he was interceding with Angie on behalf of his beefcake football-hero buddy and textbook exploiter Brett (Collins)—is a Band-Aid. With the perceptional walls closing in on wounded Claire, boundaries begin to blur between actuality and her inner world. Strung out by suffering, Claire is an unguided missile. Angie's power is a threat to herself because she throws it away.
Gordon and DeJong plug knowingly into this fritzing heat source, riding its manic current through the chaos of trauma to eventual deliverance. The men are the wallpaper in this moody show. It's the women who take ownership, both behind the camera and before it, muscling their way through every histrionic obstacle.