DRAMA; 2hr 6min
STARRING: Mark Ruffalo, Anne Hathaway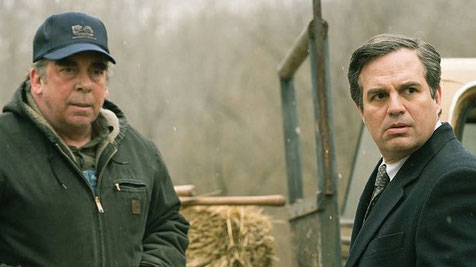 The long view: from left, Camp and Ruffalo
It takes Cincinnati lawyer Robert Bilott (Ruffalo) 20 years of elbow grease and grit to win out against chemical giant DuPont in director Todd Haynes's eye-opener. That's an especially ironic battle of wills, given that Rob is a criminal defence attorney whose job it was to stand up in court for the very firm—and others of its shady ilk—that he becomes intent on targeting.
His one-man war begins out of the blue in 1998, with a cry for help from a Parkersburg, West Virginia, farmer (Bill Camp) whose contaminated land is killing both his tumour-riddled cows and, later, himself and his wife from cancer spawned by the toxic muck that DuPont has been cavalierly dumping. Based on a 2016 New York Times Magazine article, Dark Waters is in essence a long and winding paper trail, along which Rob will trudge to the detriment of his health and home. (Hathaway stokes its fires as his sorely tested wife, Sarah.)
The research that Rob puts in is isolating and eye-watering: at one low point, with DuPont officially antsy, he's swamped by the roomful of boxed paperwork it delivers to his law office to muddy procedural waters. But with Haynes (Velvet Goldmine, Carol) overseeing and a single-minded Ruffalo manfully stepping up, the consciously subdued cadence gathers steam from a potentially rote procedural to a diabolical exposé.
Rob's pivotal finding—that DuPont knowingly used the unregulated, carcinogenic chemical PFOA in the manufacture of global household staple Teflon, and that as a "forever chemical," PFOA remains in the bloodstream permanently—marks him as a man obsessed. As Karen Silkwood and Erin Brockovich before him could have testified, those are thankless shoes to fill. The Parkersburg class-action suit Rob files against DuPont goes on to cost the company $US671 million. But that accountability is a bitterly fought last resort, and PFOA is just one chemical menace among many.