DRAMA; 1hr 34min
STARRING: Shia LaBeouf, Lucas Hedges, Noah Jupe, FKA Twigs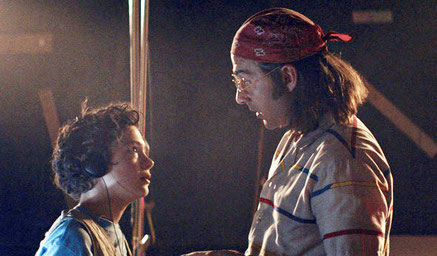 Father and son: from left, Jupe and LaBeouf
Actor-screenwriter Shia LaBeouf doesn't spare himself or his father in his pilgrimage down memory lane: written by LaBeouf while in rehab, his fictionalised memoir is equally an olive branch and an evening of enduring scores.
In 1995, 12-year-old Otis Lort (Jupe) is a TV actor doing it tough with his conflicted, alcoholic father, James (LaBeouf, gamely full-on), a one-time rodeo clown and registered sex offender now in his son's employ. Ten years later, Otis (a seething Hedges) is a star on the slide with his drinking out of control. After a third run-in with police, his choices boil down to rehab or jail—and rehab means going head-to-head with the load his childhood self was forced to shoulder.
As LaBeouf tells it in flashbacks and forwards neatly wrangled by documentarian and first-time feature director Alma Har'el and her steadfast cast, James—although sober for four years—is all sharp edges. He's livid with his ex, Otis's mother (Natasha Lyonne), for joining a Big Brothers program in which Otis will be mentored by someone other than James's mouthy, controlling self. (Needless to say, the meeting between the two men does not go well.) Father and son live in a tacky motel, the close quarters of which give Otis no shelter from the firestorm of James's frustrations (although singer-songwriter FKA Twigs is a seductive consolation as fellow resident and soul buddy Shy Girl).
Otis is a necessarily sturdy kid who mostly copes by deflecting. But the bottom line is that James is too beholden to the wreckage of his past to be present for the boy who needs him. The only legacy he knows how to leave is the damage he inherited, damage that 10 years later will strand Otis in the no man's land of an unresolved past.
"I want you to be a better dad to me," 12-year-old Otis half pleads, half demands in a watershed encounter. If he's been forced to grow up too fast, his father, essentially, never grew up at all. LaBeouf patently has no illusions about the hand he was dealt: his recollections of it here are stark and steeped in grief. But Honey Boy is a love story nonetheless, a left-field reckoning from son to father about the ties that bind as they break.