COMIC DRAMA; 2hr 4min
STARRING: Anya Taylor-Joy, Johnny Flynn, Bill Nighy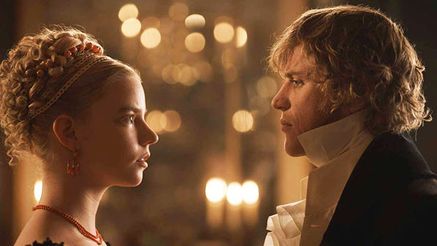 Spice of life: Taylor-Joy and Flynn
Since English novelist Jane Austen introduced her to readers in 1815, 20-year-old Emma Woodhouse (Taylor-Joy) has been a poster girl for entitlement. Nothing has changed in this sumptuous, ice-cream-coloured re-telling from first-time feature director Autumn de Wilde, who chooses to keep the characters classic.
That hasn't always been the way, with Austen's novels ripe for re-interpretation over the years (zombies, anybody?). It speaks volumes for her elastic relevance that her work is still so out there: de Wilde's Emma. is one of numerous adaptations in a line-up that also includes the brilliant riffs of Clueless. Its cast is game for every genteel go-round, but the real rock stars here are the costume, hair and production-design departments. Their diaphanous gowns are a dream, their corkscrewed updos are works of art and the stately homes and emerald lawns of rural Highbury are fairy-story sublime.
The busy plot, meanwhile, is a tangle of cross purposes that screenwriter Eleanor Catton deferentially doesn't mess with. Over delectable mega-spreads, decorous piano recitals, sedate country strolls and other such elite, time-frittering pursuits, the gossipy players circle each other like transfixed tropical fish. Whip-smart yet prone to condescension and wilfully short-sighted, Miss Woodhouse is in her meddlesome element mismanaging the love-life of her credulous protégée, Harriet Smith (Mia Goth). With her ineffectual father (Nighy) drooping on the sidelines, dishy, stroppy George Knightley (Flynn) is the only man with a prayer of keeping Emma in check—and the only man for her, if she could only see it.
The stew thickens with the outrage of spurned padre Mr Elton (a moony Josh O'Connor) and the arrival on the outwardly sedate scene of annoyingly accomplished Jane Fairfax (Amber Anderson) and dashing distraction Frank Churchill (Callum Turner). The romantic intrigue is distinctly of its mannered, marriage-centric time. Yet since human nature Austen-style never seems to age, it's as much of a trip today to watch the Highbury set swimming upstream towards matchups written in their stars as it must have originally been to have met them on the page.