HORROR; 1hr 51min
STARRING: Nicolas Cage, Joely Richardson, Madeleine Arthur, Brendan Meyer, Julian Hillard, Tommy Chong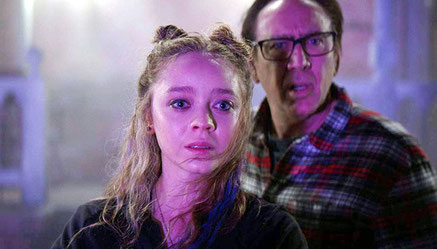 Spaced out: Arthur and Cage
The best intentions are a fast track to hell when Nathan Gardner (Cage) relocates his stockbroker wife, Theresa (Richardson), and their children, Lavinia (Arthur), Benny (Meyer) and Jack (Hillard) to a country property following Theresa's mastectomy. Nathan's eco-conscious goal is to grow tomatoes and keep alpacas (surely a Cage spirit animal). Alas, his kids aren't down with the sea change: Lavinia practises witchcraft, Benny smokes dope and chills with an oddball squatter (Chong) who apparently came with the property, and youngest son Jack has retreated into himself.
None of this is promising, but paradise Gardner-style really goes pear-shaped when a psychedelic meteorite slams into their front garden one night. Quizzed by authorities the next morning, Nathan informs them that for the first time since her operation, he and Theresa were having sex when the incident occurred. (Why would he say this? Who knows or cares?)
Within hours, the UFO has disintegrated and Theresa is losing it (substantial hint: a kitchen carving knife is involved). And the galactic missile is just getting started, contaminating the water supply, pigmenting vegetation and charging the atmosphere with fizzing electrical energy while also contriving to warp time, scramble brains and phone lines and hatch a chipper pink bug from the Gardners' well. "What the hell is going on?" wondered Lavinia and I at the exact same moment.
Adapted from a 1927 H.P. Lovecraft novella, Color is directed and co-written by Richard Stanley, whose last claim to cinematic fame was his ousting after three days from the set of the 1996 debacle The Island of Dr. Moreau. Stanley's Lovecraftian vision is a beggar's banquet of processed cheese, juiced by Nathan's hectic fits of rage as it lurches like the undead from the merely peculiar to the outright grotesque. Cage, of course, has a field day, whether milking an alpaca, promising poor Theresa with a complete lack of conviction that "Everything's gonna be A-OK," or erupting like a lunatic over a failed crop of tomatoes. The calories might be empty, but I gobbled them all up.