COMIC DRAMA; 1hr 37min
STARRING: Shia LaBeouf, Zack Gottsagen, Dakota Johnson, Bruce Dern, Thomas Haden Church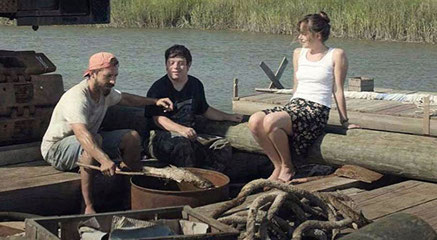 Marine life: from left, LaBeouf, Gottsagen and Johnson
There's nothing not to barrack for in a buddy-slash-river-as-road movie. Especially one about a rebel with Down syndrome (Gottsagen as Zak) who conspires with his enterprising roomie (Dern) to escape the dispiriting retirement home he's decades too young for with the dream of becoming a pro wrestler. Goals!
Joining Zak on his wild ride are Tyler, a salt-crusted loner with a bruised but caring heart (LaBeouf, making the utmost of every moment), and eventually, when she catches up with them, Zak's frazzled social worker, Eleanor (Johnson). Tossing caution over the side of the intrepid twosome's homemade raft, she climbs aboard and off they glide into the silky waters of North Carolina's Outer Banks.
Their shot-in-the-dark isn't all stonewashed skies and renegade bonding. Tyler has made himself two mean-ass enemies (John Hawkes and Yelawolf), Eleanor has a bureaucratic burden of care to deal with and Zak's wrestling-teacher idol, The Salt Water Redneck (casting dream Haden Church), is now yesterday's hero. Filmmakers Tyler Nilson and Michael Schwartz also keep their collective feet on the ground, with first-timer Gottsagen, who has Down syndrome, cutting bluntly through potential treacle. That said, this is primarily a story about the liberating beauty of belief. And so it is that with dogged, can-do Zak as their unifying purpose, a mixed set of square pegs, who otherwise would never have set eyes on each other, somehow contrive to pull together to turn a sidelined state ward into a force to be reckoned with. Sometimes the impossible really is just a matter of degree.