DRAMA; 1hr 49min
STARRING: Tom Hanks, Matthew Rhys, Susan Kelechi Watson, Chris Cooper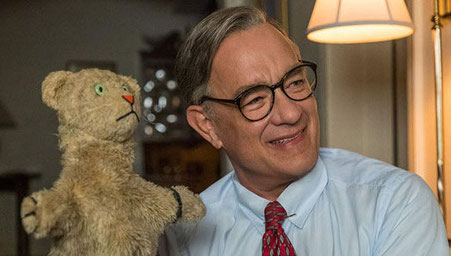 "Have you ever felt…so angry," Tom Hanks, as real-life TV host "Mister" Fred Rogers, gently enquires of his pre-school audience, "[that] you want to hurt someone—or yourself?"
It's impossible to picture Hanks's Mister Rogers as anyone but the tweely benign presence who cornered the US kiddie market in Mr Rogers' Neighborhood from 1968 to 2001 (Rogers would die of stomach cancer in 2003 at age 74). Certainly, Esquire magazine journalist Lloyd Vogel (Rhys) has zero interest in the 400-word story he's assigned to write on Rogers in 1998 as part of a salute to American heroes. For one thing, Lloyd takes himself and his jaundiced view of humanity pretty damn seriously. Besides which, he's hardly in the brightest place, career or family wise: when not brawling with his errant father (Cooper), at his sister's wedding reception, of all the misguided places, he's adjusting to fatherhood himself with his happily —for Lloyd, at least—tolerant wife (Kelechi Watson).
Yet although the last things Lloyd thinks he needs are Mister R, his trademark cardie and his "hokey" show, he finds himself disarmed by a man whose playful diffidence is driven by the agenda of "[giving] children the ways to deal with their feelings."
As an interview subject, Fred proves tricky, more concerned with probing the psyche of a wary Lloyd than with answering prescribed questions. Lloyd persists, anyway, and over the course of their conversations, his subject is revealed as compassionate, humble and wise (aka a spirit double for Mister Congeniality, T.H.) and the prickly writer is revealed to himself.
Journalist Tom Junod, on whom the character of Lloyd is based, has described his encounter with Fred Rogers as life-changing. That's a next-level outcome for any profile piece, to which director Marielle Heller (Can You Ever Forgive Me?) has responded by playing its keynotes of understanding and acceptance as nice as pie. Know this, then, when choosing to swing by: aside from its whimsical miniatures of the Neighborhood set, Heller's indulgent 'hood is otherwise detour-free. And if your visit here isn't a showstopper, a distillation of goodness needs no additional frills.