DRAMA; 1hr 48min
STARRING: Charlize Theron, Nicole Kidman, Margot Robbie, John Lithgow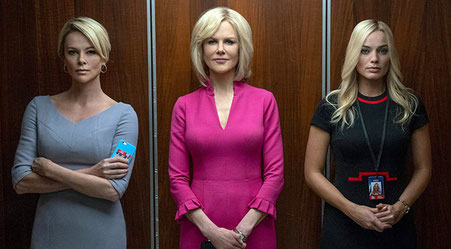 #ThemToo: from left, Theron, Kidman and Robbie
"I want his behaviour to stop," vents Nicole Kidman, as Fox News host Gretchen Carlson, about her frustration with predatory network president Roger Ailes (a toadlike Lithgow). "Someone has to speak up, someone has to get mad."
The factual record has shown that the real Carlson was a groundbreaking fighter for whom sexist parameters existed to be smashed. (She successfully sued Ailes after her dismissal from the network.) But as that record has further reinforced, and as Austin Powers director Jay Roach's workmanlike re-creation of Ailes's thudding downfall makes no bones about, in 2015 the male-centric Fox culture is off the exploitative charts.
While Carlson stews, and takes covert action by secretly recording her meetings with Ailes, news-anchor-with-attitude Megyn Kelly (the chameleonic Theron, astonishingly transformed into a doppelgänger of her punchy subject) is copping a deluge of flak after taking on US presidential contender Donald J. Trump (underwhelming as himself). And down among the worker bees, (fictional) up-and-comer Kayla Pospisil (Robbie) is learning the insider ropes in Ailes's locked office…
The vipers' nest of duelling agendas that was the shameful Ailes era has already been picked over piece by festering piece in both actual news and in the exhaustively scathing 2019 miniseries The Loudest Voice. Roach, and screenwriter Charles Randolph's take on the Fox roster of dirty tricks is necessarily brisker, with emphasis on the hard-pressed Kelly. There's no earth-shattering news to break, just a playbook of base acts, a blue-ribbon cast to flesh them out and ceaseless momentum to propel them over the line. And if the swampy ground they're covering feels only too familiar, the score-settling cause that these women go to bat for still packs a stinging wallop.