CRIME DRAMA; 1hr 57min (Mandarin with subtitles)
STARRING: Ge Hu, Lun-Mei Kwei, Regina Wan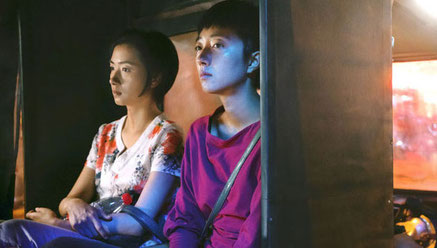 Shady ladies: Wan (left) and Kwei
Zenong Zhou (Hu) is the terminally cool boss of a gang of motorcycle thieves in a reflexively cutthroat world where cool is a default state of mind. Zhou needs every ounce of that sangfroid after a competitive heist with two rival gangs skids into a fatality and he's a marked and injured man, hunted by everyone with five minutes to spare.
After years apart, Zhou would ideally like to be reunited with his wife, Shujun Yang (Wan, and oh my, is she ever), to ensure she's taken care of with reward money in the event of his almost certain capture and/or demise: a noble aim that for a bunch of strategic reasons isn't likely to see the light of day. Instead, while hiding out in the lawless, low-rent surrounds of the Wild Goose Lake, Zhou must make do with the iffy support of morose prostitute Aiai Liu (Kwei), who can't wait to put her miserable life behind her. Can Zhou trust this "bathing beauty," as sex workers in the region are euphemistically referred to? Why on earth would he when nobody in this festering sinkhole has any intention of trusting anybody else?
Related partly in flashbacks, the low-rung double-dealing is a headache to make sense of. But there's no disputing that writer-director Yi'nan Diao (Black Coal, Thin Ice) has cornered the market on grubby and absorbing. Spliced with lozenges of jewel-toned light, his languorous, rain-soaked nightscapes teem with a rogues' gallery of hungry ghosts. It's not so much what goes down in the shadowland of the Lake's shushing waters that hits home (big hint: it's all bad) as the seamy ease with which Diao tells the tale.